Send mass Whatsapp messages that people open
MAZZAPPER is the best Whatsapp mass-sending tool. Get an open rate up to 30x higher than with traditional emailing solutions. Chat with customers in real time directly from your own Whatsapp account.


Mazzapper is trusted by over 150,000 organizations and 10+ million users





Send personalized messages from Whatsapp in 3 steps
– – – – – –
Don't waste time sending individual Whatsapp messages. Create and send mass-message campaigns directly from Whatsapp with Mazzapper.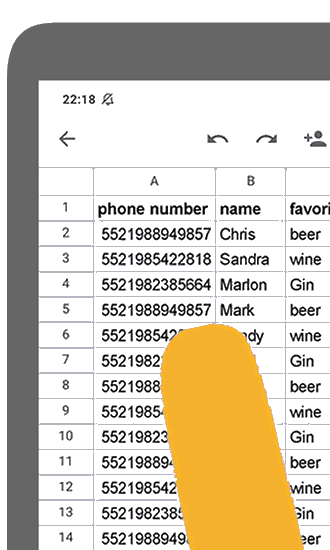 1
Prepare your mailing list in Google Sheets
Create your Google Sheets with your mailing list. Make sure the Whatsapp phone number is on the first column and that it has the country and city code. You can user personalization variables on the next 9 columns.
2
Create your message template in Mazzapper
Write your content and  add personalization in your message using [var1], [var2] etc. Then hit START
3
Send the messages
Jump between Mazzapper and Whatsapp to send each message. You can send 100 messages in 6 to 8 minutes. You'll be able to chat to each customer while sending, keeping the conversation warm.
Increase engagement & grow your business with Mazzapper
Get more responses, more leads, and more engagement with personalized lead generation campaigns, event invitations, promotions, email newsletters, surveys, and more.

Lead generation
Improve your lead gen processes with Mazzapper. Easily pull Whatsapp number from Google Contacts or your CRM, like Salesforce, Hubspot, and Copper, then send personalized messages to generate more sales opportunities.

Event reminders
Reminders can make or break events. Make sure that your guests get an alert to arrive on time. Mazzapper lets you send mass-alerts, so you can focus on making your event go perfectly.

Promotions
From referral promotions to first-time purchase incentives, discounts are a powerful acquisition and retention tool. Use Mazzapper to send customers personalized coupons, custom referral links, and more to keep them coming back!

Newsletters
Send notifications of new site content to engage prospective and existing customers and increase readership of your content marketing, like newsletters and whitepapers. 

One-click polls
Send polls that your contacts can answer in one-click. Use link-shortneres to track your one-click survey results and make getting feedback easy for you and painless for your contacts.

Teacher-parent communications
Keep parents up-to-date with their child's schooling. Use  personalization to inform them of their kid's grades. You can also send homework updates, share permission forms, and more.
There are 3 ways to get your message across
Highly recommended if you ever need to make do market research or customer outreach on Whatsapp!
– Alex Crosby, Senior Europe Ad sales Director, BBC
Phenomenal app – has really helped our team streamline our outbound sales process .
– Jack Lavine, Sales Director, Audi UK
Makes may communication with bloggers much easier for me!
– Shelley Marstoen
, PR, Gold's Gym SEAsia